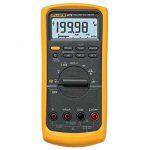 The artifact is a Fluke 87 III, a 3½ digit DMM.
This program is suitable for participants who source these electrical quantities and/or calibrate handheld multimeters. This program involves sourcing DC Volts; DC Current; DC Resistance; AC Volts; AC Current; Capacitance and Frequency using suitable lab equipment with a total of 16 test points.
Testing periods run from Monday to the following Tuesday. Please note that a $100 deposit required to reserve the test.