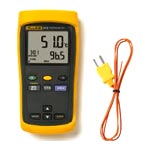 The artifact is a Fluke 51 Digital Thermometer
This program is suitable for participants who source these electrical quantities and/or calibrate temperature measuring devices. This proficiency test involves using a source to simulate temperature in the K-type thermocouple range of -200 °C to 1372 °C.
Testing periods run from Monday to the following Tuesday. Please note that a $100 deposit required to reserve the test.